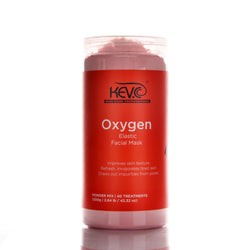 Oxygen Elastic Mask
LOGIN FOR PROFESSIONAL PRICE
Item#: KCS020
Refresh skin texture from tired dull skin. Perfect for stressed, worn out skin or a pick-me up from a long week. Enhances the absorption (and efficacy) for your skin care regimes. Balance and regenerate skin complexion.

Improves skin texture
Refresh, invigorates tired skin
Draws out impurities from pores
Contains about 40 treatments.
Diatomaceous Earth, Algin, Zeamays (Corn) Starch, Calcium Sulfate, Trehalose, Sodium Hyaluronate, Tocopheryl Acetate
Use 2-3 scoops per face treatment. Mix with water until homogenous paste, apply onto face directly. Layer mask onto face to contour and fit treatment area. Leave on for 15-30 minutes. Peel off mask and wipe down any excess with esthetic wipes.  
TIP
Mask thickness is up to the professional. Usage varies based on area treating. Use KEV.C serums or essence under mask for efficient results. Can use Mask Gauze under mask for easy application removal. 
PRO TIP
Layer hot mask over facial mask treatment for a double facial treatment.