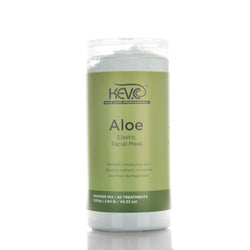 Aloe Elastic Mask
LOGIN FOR PROFESSIONAL PRICE
Item#: KCS003
Aloe Vera - Rich in antioxidants and minerals to soothe irritation, redness, and inflammation. Aloe contains beta carotene, vitamin C and E that can help improve overall skin condition and keep the skin hydrated. Reduces and lighten acne blemishes. Helps speed healing on damaged skin.
Refresh, moisturize skin
Soothe redness, irritation and heal damage skin
Contains about 40 treatments.
Diatomaceous Earth, Algin, Zea mays Corn Starch, CALCIUM Sulfate, Trehalose, Sodium Hyaluronate, Aloe Barbadensis Leaf Juice Powder, Parfum
Use 2-3 scoops per face treatment. Mix with water until homogenous paste, apply onto face directly. Layer mask onto face to contour and fit treatment area. Leave on for 15-30 minutes. Peel off mask and wipe down any excess with esthetic wipes.  
TIP
Mask thickness is up to the professional. Usage varies based on area treating. Use KEV.C serums or essence under mask for efficient results. Can use Mask Gauze under mask for easy application removal. 
PRO TIP
Layer hot mask over facial mask treatment for a double facial treatment.