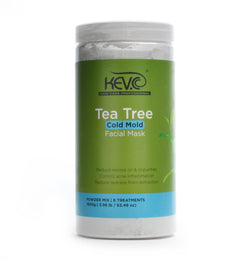 Tea Tree Cold Mold Mask
LOGIN FOR PROFESSIONAL PRICE
Item#: KCCOLD1
Tea tree helps promote overall skin health by healing skin wounds and damages. Soothes dry skin and irritation. Antiseptic properties help control excess oil and impurities. To prevent blemishes, cold mold mask helps soothe inflammation and redness. Ideal for after extraction to relax skin.
Must use with Base cream & Face Gauze.
DIATOMACEOUS EARTH, CORN STARCH, SILICA, ALGIN, CALCIUM SULFATE, PECTIN, SODIUM HYALURONATE, CAMELLIA SINENSIS, MENTHOLUM, AROMA.
After cleansing apply nourishing base cream onto face and apply mask gauze or cotton pad over the face to protect lips & eyes. Use approximately half bag (per treatment) and mix with water. Stir mixture to a homogeneous paste and apply onto face evenly. Leave on for 20-30 minutes and remove the whole mold. Rinse with water and pat dry. Can also be used over a powder mask to provide a double-layer mold mask treatment. If irritation occurs, please stop use.