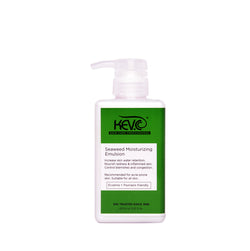 Seaweed Moisturizing Emulsion
LOGIN FOR PROFESSIONAL PRICE
Item#: KSB-SP2005
Increases skin water retention
Nourish redness & Inflamed skin.
Control blemishes & congestion.
Recommended for acne-prone skin. Suitable for all skin. Eczema + Psoriasis friendly. 
Please note: although Seaweed is a very sensitive-friendly nourishing ingredient, those who are sensitive to Seaweed are not recommended to use. Please ask and advise your client if they are sensitive to this ingredient.
WATER, GLYCERIN, PROPANEDIOL,SQUALANE, CAPRYLIC/CAPRIC TRIGLYCERIDE, DIMETHICONE,POLYSORBATE 60, SORBITAN STEARATE, PEG-100 STEARATE,GLYCERYL STEARATE, CETEARYL ALCOHOL, TOCOPHERYLACETATE, TOCOPHEROL, DELESSERIA SANGUINEA EXTRACT,PYRIDOXINE, NIACINAMIDE, TAURINE, SODIUM HYALURONATE,PAEONIA ALBIFLORA ROOT EXTRACT, SCUTELLARIABAICALENSIS ROOT EXTRACT, SAXIFRAGA SARMENTOSAEXTRACT, ACETYL TYROSINE, ARBUTIN, GLUTATHIONE,AMINOPROPYL ASCORBYL PHOSPHATE, CARBOMER, PEG-40HYDROGENATED CASTOR OIL, CHLORPHENESIN, PHENOXYETHANOL.
Apply after treatment. Spread light layer over face or areas of concern at end of facial / treatment.