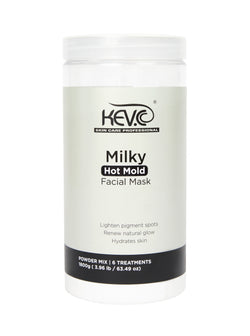 Milky Hot Mold Mask
LOGIN FOR PROFESSIONAL PRICE
Item#: KCH1
Lighten pigment spots and keeps skin hydrated. Revitalizes skin to restore a natural smooth glow.
Each pack is good for two mold mask treatments. Must use with Base cream & Face Gauze.
Talc, Glucose, Soribitol, Calcium Sulfate, Astaxanthin Extracts, Potassium Alginate, Kaolin Clay, Orange Extracts
After cleansing apply nourishing base cream onto face and apply mask gauze or cotton pad over the face to protect lips & eyes. Use approximately half bag (per treatment) and mix with water. Stir mixture to a homogeneous paste and apply onto face evenly. Leave on for 20-30 minutes and remove the whole mold. Rinse with water and pat dry. Can also be used over a powder mask to provide a double-layer mold mask treatment. If irritation occurs, please stop use.