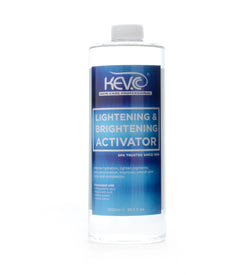 Lightening & Brightening Activator
LOGIN FOR PROFESSIONAL PRICE
Item#: KCE11
Lighten skin pigments, reduce irritation, and redness. Immense hydration to tone the epidermis. Recommended with photo rejuvenation or Ultrasonic devices for deeper penetration into skin layers.

Upgrade your Facial Peel off Masks by mixing in our Lightening & Brightening Activator!
Apply on entire face as necessary. Use with ultrasonic, galvanic or similar devices to penetrate product into skin (epidermis) layer. Let serum absorb in skin before applying moisturizer or make up.  For maximum results, use before applying a peel-off mask.
PRO TIP Can also be used with KEV.C elastic powder masks for an added collagen nutritious boost. Use 1 cap size in your mixture in addition to your water.
Aqua, GLYCERETH-26, PROPANEDIOL, AVENA SATIVA, WITCH HAZEL EXTRACT, ALPHA ARBUTIN,SODIUM HYALURONATE, POLYGLUTAMIC ACID, CARBOMER,CAPRYLHDROXAMIC ACID, 1,2 HEXANEDIOL,ETHYLHEXYLGLYCERIN.