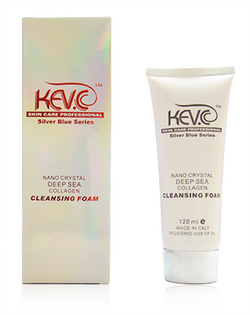 Deep Sea Collagen Cleansing Foam
LOGIN FOR PROFESSIONAL PRICE
Item#: KSB-D3001
Collagen is an essential ingredient for your skin to regrow new skin. This cleansing foam is Oil-free removes makeup and buffs away impurities, leaving skin refreshed and clean. The foam makes removing makeup quick and easy, deeply purifying. It works for all skin types and won't leave any tightness or residue.
Purifies clogged pores

Improves skin regrowth

Does not Dry out skin

Highly improve skin elasticity.
Aqua, Glycerin, Myristic Acid, Palmitic Acid, Stearic Acid, Hydrolyzed Collagen, Pe-150 Distearate, Hamamelis Virginiana Extract, Potassium Hydroxide, Trehalose, Phenoxyethanol, Diazolidinyl Urea, Panthenol, Fragrance.
Wet face and hands with lukewarm water. Work with a small amount and massage onto face with a gentle, circular motion. Rinse with lukewarm water and pat dry with a soft towel. Moisturize with ideal moisturizer following appropriate skin type.