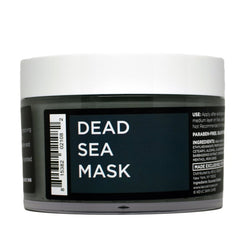 Dead Sea Mask
LOGIN FOR PROFESSIONAL PRICE
Item#: KCCM007
Natural Dead Sea Mask provides a super-deep cleanse to clear bacteria and stubborn acne, blackheads and problematic skin. Promotes exfoliation to remove toxin and dead skin cells. Minty feeling with a non-drying formula keeps skin super hydrated and clean.
Dead Sea mask improves overall skin health by improving  elasticity, minimizing pores, fights acne bacteria
Draw out toxins while menthol calms skin irritation and keep skin clean  
Non-drying formula and easy wash keeps skin hydrated
PARABEN-FREE. MINERAL OIL-FREE. SULFATE-FREE.
AQUA,KAOLIN,GLYCERIN,DEAD SEA MUD,CETYL ETHYLHEXANOATE,PROPYLENE GLYCOL,SQUALANE,GLYCERYL STEARATE CETEARYL ALCOHOL,CLADOSIPHON OKAMURANUS EXTRACT, ALOE BARBADENSIS EXTRACT,DIPOTASSIUM AZELATE,BEESWAX,XANTHAN GUM, MENTHOL,IRON OXIDE
Apply after exfoliation or after treatment. Spread a medium layer on face. Leave on for 20 minutes, then wash off.