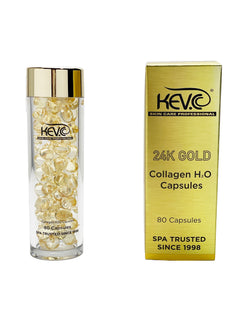 Collagen H2O Face Capsule
LOGIN FOR PROFESSIONAL PRICE
Item#: GOLD-E001
Can be used on Face and Neck. Helps Moisturize and Firming.

For best results, apply a thin layer under facial mask.
For all types of Skin. Recommended for Day and Night Usage for best results.
CYCLOPENTASILOXANE, DIMETHICONOL, AROMA, BISABOLOL, TOCOPHEROL, HYDROLYZED COLLAGEN, SODIUM HYALURONATE, OLIGOPEPTIDE-1, OLIGOPEPTIDE-5, OLIGOPEPTIDE-2, HYDROGENATED JOJOBA OIL
Apply after treatment. Spread light layer over face or areas of concern at end of facial / treatment.