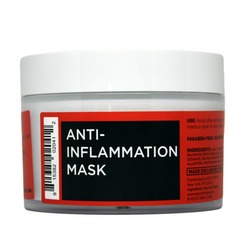 Anti-Inflammation Mask
LOGIN FOR PROFESSIONAL PRICE
Item#: KCCM002
Calming anti-inflammatory properties of aloe to calm, sooth skin and heal damaged skin 
Allantoin heals skin irritation, reduces redness,  replenish moisture and fix dry patches
Ideal to use after Acne extraction treatments or to reduce inflamed or irritated skin.
PARABEN-FREE. SULFATE-FREE. MINERAL-OIL FREE.
AQUA,TITANIUM DIOXIDE,CETEARYL ALCOHOL, ISOOCTYL PALMITATE,PROPYLENE GLYCOL,GLYCERIN,ISOPROPYL PALMITATE, GLYCERYL STEARATE, PEG-100 STEARATE,DIMETHICONOL, ALOE BARBADENSIS LEAF, ALLANTOIN, XANTHAN GUM, DIAZOLIDINYL UREA, IRON OXIDE
Apply after exfoliation or after treatment. Spread a medium layer on face. Leave on for 20 minutes, then wash off.