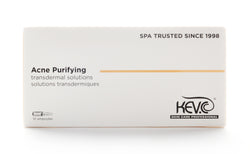 Acne Purifying Ampoules
LOGIN FOR PROFESSIONAL PRICE
Item#: TS-ACNE
Our Transdermal solutions are specialized for treatment use to efficiently deliver ingredients deep into skin dermis.
+Zinc gluconate, a powerhouse ingredient to refine pores and to help support the treatment of acne as well as the healthy functioning of the skin
+ Camphor properties to purify, anti-itch and anti-septic perfect combo against acne stressed skin
+ Stimulates healthy skin renewal of collagen matrix.


 Each pack contains 3ml * 10 ampoules. Made in France.
AQUA, ALCOHOL DENAT, ZINC GLUCONATE, PEG-40 HYDROGENATED CASTOR OIL, CAMPHOR, CAPRYLYL GLYCOL,HYDROXYETHYLCELLULOSE, XANTHAN GUM, CHLORPHENESIN, PHENOXYETHANOL, YELLOW 5, BLUE 1.
After ampoule only on clean face. We do not recommend to layer too many products with our ampoules as that may clog pores.
Hold the ampoule upright and flick the top of the ampoule lightly a few times to consolidate all the liquid below the neck of the ampoule. A light pressure to break off the top of the ampoule. While upside down, tap bottom of ampoule to apply ampoule into the palm of clean and dry hand or directly onto face. Distribute evenly over the cleansed skin (face and neck). 
If prefer to apply a moisturizer or make up, Let serum absorb in skin before applying.

For maximum results, use under a facial mask. Recommend to use with ultrasonic, galvanic or similar devices.