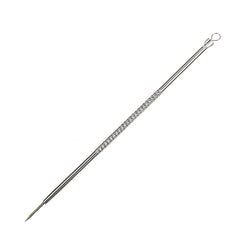 Acne Needle Extractor Tool
LOGIN FOR PROFESSIONAL PRICE
Item#: NEEDLE01
Needle Blemish Extractor Tool for treatment of facial blemishes; treat blackheads, whiteheads, acne, pimple, and comedones easily. 

A clean and hygienic way to remove impurities like acne, pimple, blackheads, whiteheads, and comedones. 

Made of stainless steel to prevent corrosion, this tool is safe for regular sterilization to minimize risk of infection.

Not recommended to use on acne that has not matured. Wipe the tool with rubbing alcohol before and after each use.