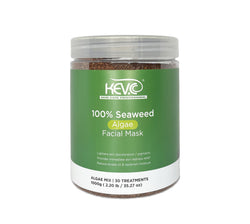 100% Seaweed Algae Mask
LOGIN FOR PROFESSIONAL PRICE
Item#: KCS200
Our Seaweed Algae mask helps protect your skin from sun damage while promoting a brighter, healthier complexion. With regular use, skin will look smoother, brighter, and clearer. Boost skin luminosity and reduces acne and acne scars. It also deeply hydrates and helps protect skin from damage caused by UV rays.
reduces enlarge pores and freckles. 
Immediately relief for redness
Helps combat melanin production 
Recommended for Acne-prone skin and combination.
Mix with water until homogenous paste, apply onto face directly. Layer mask onto face to contour and fit treatment area. Leave on for 15-30 minutes. Peel off mask and wipe down any excess with esthetic wipes.